Posted on September 11, 2022
Weekly Bulletin
September 11 - 18, 2022
SUNDAY
Worship Services at 9:00 & 10:30 AM online or on-site
Sermon Series:  THE LEGACY THAT LASTS: 2 TIMOTHY
Sermon Title:  Loving Jesus and His Word, 2 Timothy 3:10-17
​EVENTS THIS WEEK
MONDAY
TUESDAY
WEDNESDAY
THURSDAY
FRIDAY
Opportunities

The All-Church Picnic will be on the lawn outside the fellowship hall on Sunday, September 25, from 12:00 -2:30 PM. If you are interested in volunteering, please sign-up either in the foyer on August 14 or online at All Church Picnic | Glenwood Community Church. Information about the picnic and what to bring is also available.
LIFE GROUPS
LIFE Groups are where God's family acts like family. We want each person who joins a group to discover firsthand the joy, responsibility, and growth that occurs from being in an intentional community.  The people in a LIFE Group are people just like you. Some groups are composed of couples, some a mixture of both singles and couples, and some a mixture of generations. LIFE Groups meet at various homes and times throughout the week. If you would like more information, please stop by the foyer table this morning.  
Operation Christmas Child
Back-to-school sales are starting now! This is an excellent time to plan ahead and purchase school supplies for your Christmas shoeboxes. Samaritan's Purse has a list of recommended items at samaritanspurse.org/what-we-do-/operation-Christmas-child. More information will be available soon.
Quilt Show/Sunday, September 18, in the Foyer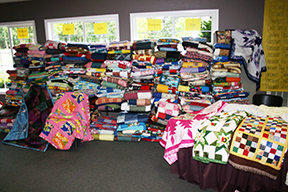 The Glenwood Quilting Ministry will have finished all the displayed quilts since their last distribution on April 28, and these quilts will be donated the week following the show. Quilts are made in various sizes and donated to fourteen organizations. The quilting group meets most Thursdays in the fellowship hall, newcomers are always welcome, and you don't need to sew to help. The quilting ministry has donated 500-750 quilts each year for the last few years!
Adult Equipping Class
How God's revelation directs our search for human identity in the midst of cultural confusion. Truly Human, Sunday, September 25, Room 302, 9:00 AM.  What does it mean to be human?  To be an embodied, engendered man or woman?  In a world both obsessed and confused by questions surrounding human identity, God speaks. Join us this fall and learn what it means to be made in God's image and yet tainted by sin while addressing cultural issues related to gender and sexuality.  You'll leave a better human and be equipped to help others to become truly human.  Ben Cunningham and others will teach the class.  
FISH (Friends in Service to Humanity) 
FISH Food Drive -  Over 2,000 pounds of food was donated to FISH during the food drive!  Thank you to everyone who contributed by bringing non-perishable food supplies and filling the blue barrels in the foyer! FISH provides emergency food to families and individuals of all ages. 
Women's Ministries
Women's Bible Study, God of Freedom (10-session video study of Exodus 19-40), begins on Monday evening, September 12, at 7:00 and Tuesday morning, September 13, at 9:15 in the Fellowship Hall.  Sign-ups are available online or in the foyer on Sunday, September 4 and 11; books will be available at that time. The cost is $25.
Precept Bible Study, Isaiah (Part 1) begins on Monday evening, September 12, at 6:30, and Tuesday morning, September 13, at 9:15 in Room 305. Sign-ups are available online or in the foyer on Sunday, September 4 and 11; books will be available at that time. The cost is $25.
Sunday Summer Camp
Sunday Summer Camp for our indoor (infants – Ks) and outdoor (1st-5th grade) camps have started! The infants – Ks will check in to their usual classrooms, and the 1st-5th will check in under a canopy at the north end of our parking area. Please have your children wear a jacket, outdoor clothes, and tennis for the six weeks session. We would still benefit from additional team members joining us for our indoor infant - Ks team. Please contact Julianna Lawson (jlawson@glenwoodcc.org) to provide helping hands during any of the six weeks through September 11th.
Serving at Glenwood
Glenwood has many opportunities for you to serve! If you are interested, please sign-up at glenwoodcc.org/serve.  
Children & Student Ministries Sunday School
To help us prepare for your children/students, fill out the one-time registration today at glenwoodcc.org/ClassRegistration.

Quilting Ministry
The Glenwood quilting ministry has resumed meeting on select Thursdays. Please check the calendar for dates or contact Susan McArthur or Barbara Priddy if you have questions.
FISH Food Pantry
FISH is located in downtown Vancouver and is focused on serving emergency food to hungry and homeless families and individuals of all ages. They have a number of volunteer opportunities right now and could use your help. To find out more, visit glenwoodcc.org/fish.
Prayer Chain
If you would like to join the prayer chain to pray for our church family's needs, please email Judy Tremblay at jtremblay@glenwoodcc.org with the email address(es) you would like to add.